We're approaching the end of durian season in Bangkok, and soon the sidewalks will no longer be crowded with their giant, spiny shells. Though I was rather put off the
first time
I tried it, I've since developed a taste for it. So on the way home from the market, I picked up two pods of the durian's fruit.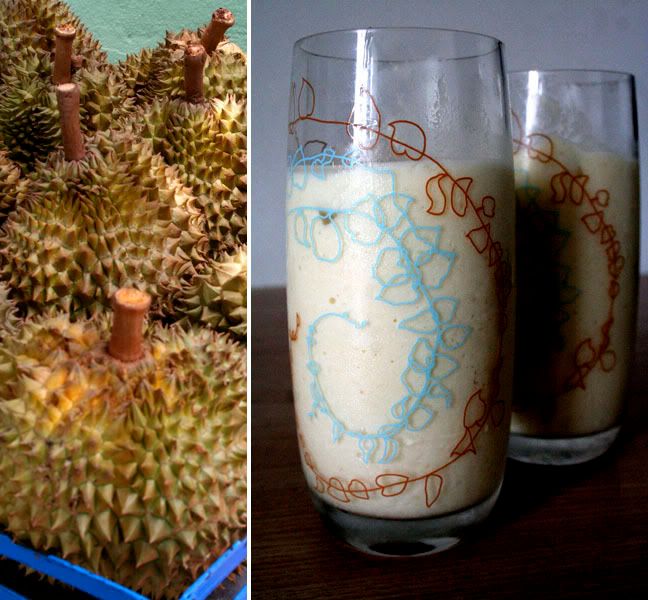 On the way out of Cambodia, Bordeaux and I had picked up a copy of
From Spiders to Water Lilies
at the Phnom Penh airport. A cookbook from the chef's behind
Romdeng
restaurant, it features regional recipes from all over Cambodia. We bought the book partly for its beautiful photos and partly because Cambodian cookbooks are rather hard to come by, but I think neither of us expected what a great cookbook it would be. We've already more than half a dozen dishes from it: soups, curries, salads and stir-fries that have all come out brilliantly. One of the recipes that looked the most intriguing to me was for a durian shake. So when I got home, I blended the durian with palm sugar syrup, condensed milk and ice, and made two durian shakes.
It was perfect. Somehow, the shake emphasized only the best aspects of durian: its smooth texture and sweet creamy flavor, with only the slightest undertone of an overripeness, which gave it a subtle complexity. Anyone want to try?