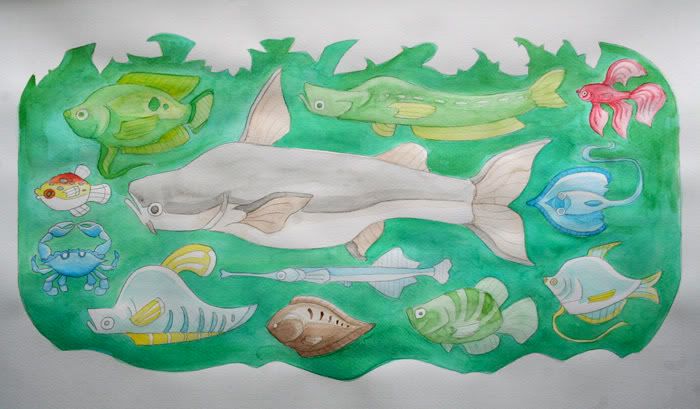 Fairly soon after I moved to Bangkok, I bought a set of watercolor paints with the idea to work on a few illustrations about the places and creatures that I encountered while exploring Southeast Asia. Finally, after living here for nearly ten months, I completed my first one. And whether it was having just finished reading 20,000 Leagues Under the Sea, or the influence of Jess Gonacha of
Treasuring
- this painting ended up being all about fish.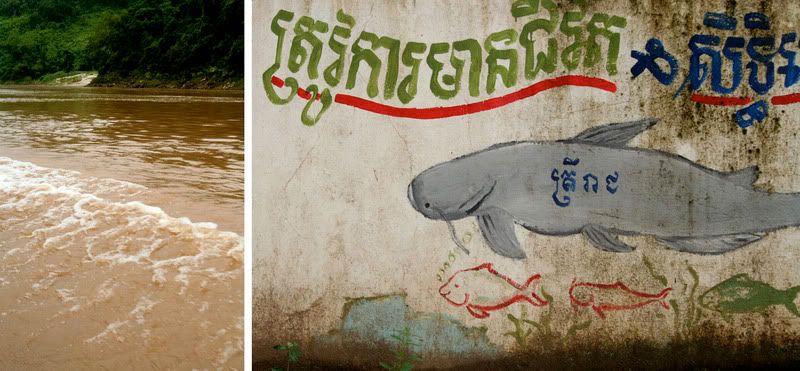 Tropical rivers
have always held a fascination for me, and few regions are as defined by their waterways as Southeast Asia. There's the muddy, empire strewn Chao Phraya; the life giving Tonle Sap; and of course, the monstrous, epic
Mekong
. Part of what makes these waterways so mysterious is the strange creatures that it conceals.
So, in simple stylized forms, I depicted some of my favorite aquatic creatures. In a style inspired by scientific murals (like the one at the Maputo Natural History Museum, pictured above) and the 'Freshwater Fish of Thailand' chart that I had in my classroom, I set them out to display their bizarre forms and shapes. The star of the piece is of course the star of the river itself, the
Giant Mekong Catfish
.