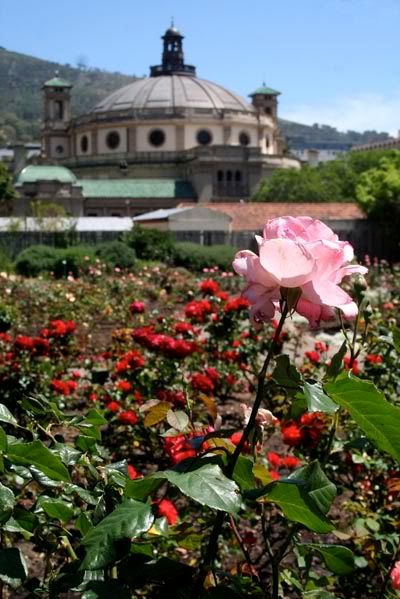 We're in a season of change here in Cape Town-- the gray drizzle of winter and the clear sunny days of summer caught in a tug of war that has us constantly confused about how to dress for going out. Pictured above is the rose gardens at Cape Town's Company's Gardens, with the regal Centre for the Book in the background, on one of our nicer recent days.
And in some ways, there seems to be a lot of change taking place among blogs these days.
My husband Bordeaux has decided to discontinue his old blog
Marita Says
, and launched a new one at
Itinerant Bordeaux
. The blog continues his writing on home-ec style projects like cooking, baking and sewing, but has also expanded to cover travel, literature, topics in gay culture, and of course, his itinerant lifestyle.
Similarly, my friend Tim has completely redeveloped his blog
I am a viking
. He started the blog several years ago as a teacher in Japan, and it initially covered local Japanese food culture. He's recently moved to the UK and begun work selling Danish beers, and fittingly has relaunched his blog to cover Scandinavian culture, food, and beer.
In a more subtle way, there are some changes taking place here at PRIMITIVEculture, as well.
Regular readers will have noticed that I basically stopped writing midway through this year-- I had one entry in June, and not many more in May or July. Though there were several factors for this, I basically reached a point where the theme of my blog was running counter to the theme of my life. I was very settled in Cape Town, and more than that I wasn't really getting out much even in Cape Town, which made it difficult to write a blog about interacting with the world.
In starting up writing again, I really had to reconsider what PRIMITIVEculture is about. It is a blog about travel, but since travel is not it's sole narrative, it isn't exactly a travel blog. And it is a blog about food, but since it is not entirely devoted to food, it isn't a food blog either. The best way that I can put it is that PRIMITIVEculture is really a blog about lifestyle, about recognizing that the world is in amazing place, with an incredible range of experiences to be had. Whether it's travelling to foriegn cities, or seeking out a delicious meal, or admiring the style of a local designer, it's all about ways of seeking out the full breadth of what the world has to offer, hopefully with a little style.
In essence, this won't really change the content of my blog very noticably. There might be some new topics explored, some focus given to my patterns of writing. And I've started to organize my topics a little, so they can be explored through the menu of categories on the side-bar to the right. This is a work in progress, so there will be minor tweaks and changes along the way. Thanks for reading, and I hope you'll continue to join me for whatever changes this season brings.