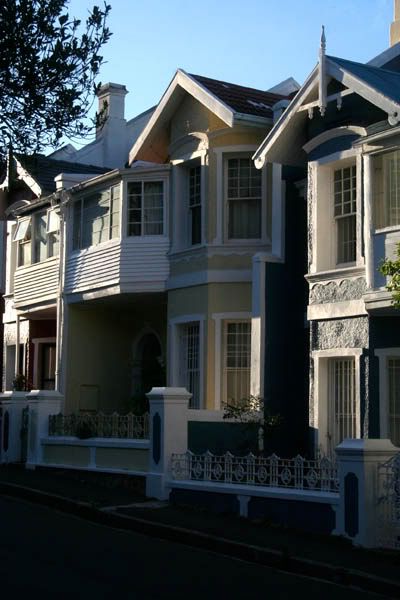 While Cape Town doesn't have everything I'd like in a city, it is unquestionably the city whose aesthetic style I most appreciate. It's not only the absurd landscape sculpted by Table Mountain, Lion's Head, and Table Bay, and the mingling of temperate and tropical vegetation that I love-- it's also in the offbeat combination of such diverse architectural styles that make up the city.
Just within a short walk around the neighbourhood of Oranjezicht I spotted Victorian town-houses with intricate lace-like fences, the sleek curves of '60s modernism, baroque adaptations of Cape Dutch, and the masculinely handsome details of art-deco. It might seem like these styles might not work, but somehow, they work beautifully. It may take a little getting used to, but the combination is fantastically Cape Town, as distinctive and intriguing as seeing the local bird of paradise blooming just below an imported acorn tree.
Unfortunately, this doesn't include most of the city's architecture post 1965... don't even mention those new hotels being plonked down for the World Cup to me...