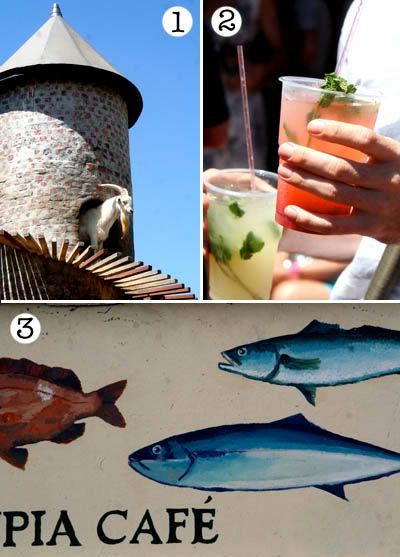 I had really hoped to fill my last days in Cape Town with loads of blog entries, extolling the virtues of this fantastic city, but as is
always
the case it seems, life became a little too busy for blogging. We had to pack, of course, and were busy spending time with two very funny friends who dropped into town, and were occupied with trying to get the most out of our last days in the Cape. Saying goodbye to your home is always hard-- it's a central theme of this blog that I centre my life very strongly on where I live, so I get rather attached to my homes-- and it's especially hard when your home is as fantastic as Cape Town. So there are
lots
more Cape Town entries on the way. I'll either get them up in the coming week, or put them all up when we swing through northern South Africa in March (I haven't decided yet)-- but in the mean time, here are a few of the things that were hardest to say goodbye to in Cape Town.
1) Fairview Cheese and Wine farm-- If I could list in order the foods I miss in Asia, good cheese, bread, and wine would be at the top of the list. All of these things are available at Fairview, a goat farm in Paarl where you can combine an afternoon of sampling wines with tasting incredible artinsal cheese.
2) The Neighbourgoods Market at the Biscuit Mill-- This every-Saturday market is packed with local vendors trading an incredible variety of foods, making this a great place to spend a morning of slow grazing. Beyond that, it's a great spot for checking out some of Cape Town's most beautiful people, who seem to converge here every weekend. We spent nearly every Sat there this year selling our own food, but even though we took our last weekend in town off, we went back just to eat, drink, and enjoy the best spot to hang out on a Sat afternoon in Cape Town.
3) Kalk Bay-- I debate the issue in my mind, but sometimes I wished I could have lived in Kalk Bay. This small artistic community is only half an hour from Cape Town, but feels worlds away-- a vacation paradise of neighbourhood cafes selling well-made crossaints, of small boutique galleries, of beautiful green sea, and deliciously rich ice cream cones. Whenever I felt the urge to get away, a visit to Kalk Bay would go some ways toward satisfying me.
4) The City Bowl-- We were lucky this year to live in Gardens, at the centre of Cape Town's City Bowl. With our home base right there, we were able to take advantage of all of the neighbourhood's attractions: we took picnics in the Company's Gardens, swam at the Long Street Baths, zipped up to Lion's Head for morning climbs, and hung out at a number of local cafes. If there is one neighbourhood that truly defines Cape Town it's the City Bowl, and this year we revelled in all it had to offer.
This year wasn't always easy, but I'm sure I'll look back on it with great fondness. Thanks for everything, Cape Town.