The last stop on the railway line down the peninsula is

Simon's Town
,
a strange spot of sailors, tourists, and African penguins.
The enclave of
Kalk Bay
will likely always be my favourite spot on False Bay, but the first place I visited was actually Simon's Town. I had only been in South Africa for a few weeks, the continent still new to me, and as I walked along the boardwalks of Boulders, I was struck by how odd it was that the first wildlife I was seeing in Africa were the penguins.
Likely this is true of many of the visitors who use Cape Town as their entryway to South Africa. For while most people come to Africa to see elephants, rhinos, and lions, who could pass up the chance to see the strange colony of
penguins at Boulder's beach
? They're tiny and sufficiently adorable to warrant lots of souvenir plush toys, though they whine with a loud braying call doesn't fit their size. It was this call that originally got them the name of 'Jackass Penguin', which they still had when I first visited-- the name has since been changed to the 'African Penguin', allegedly for purposes of classification, not propriety. It is perhaps fitting, as they are the only species of penguin to nest on African soil-- a relatively new development, in fact, as they were only safely able to do so once human development had cleared the coastline of leopards.
Simon's Town has a rather touristy feel, and it is likely owed all to the penguins-- beyond them, there's not much to do in Simon's Town other than stroll through town and enjoy the atmosphere. Originally a British Naval Station (there's still a working naval base here), the town has the look of a British seaside town at the turn of the previous century-- worth seeing, if only because it feels about as out of place as the penguins.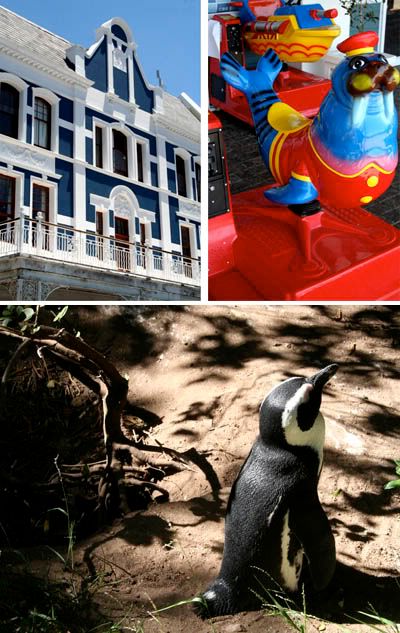 One note, however: As worthwhile a stop as Simon's Town is, remember not to make it a stop over lunch or dinner. The restaurants in Simon's Town are generally aimed at tourists, and as a result are both poor quality and overpriced. We almost made the mistake of eating lunch at one place in town, but when we scanned the menu and saw baked beans on toast for R38 (about $5), we canceled our drinks, got back in the car and headed to
Kalk Bay
, for a fantastic lunch at Olympia Cafe-- with not a baked bean on the menu.