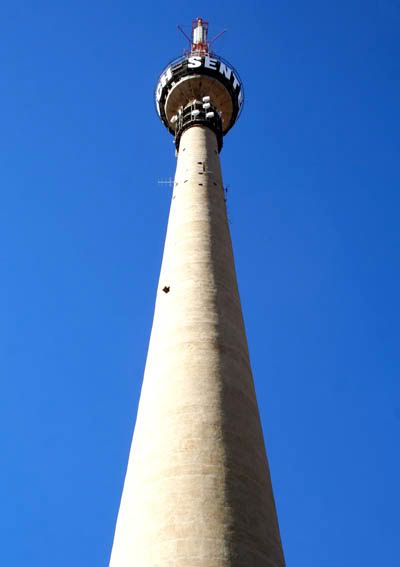 Despite its bad reputation, Johannesburg has some pretty strong defenders. Those who live in the city often love it. Even the fact that the city has so many nicknames (joburg, jozi, egoli) suggests some sort of affection.
But could I love Jozi? Every time I go, I try to answer this question. On this last visit, I looked hard, and tried to imagine myself there. I came up with a few good things about Joburg:
1) The city is greener than Cape Town, as it's set in a huge artificial forest.
2) The residents are allegedly friendlier and more welcoming than in Cape Town.
3) The city is relatively mixed, racially and culturally, which is a refreshing change from Cape Town.
But unfortunately, my list of things I don't like about the city is a bit more convincing...
1) There are too many high walls, too many shopping malls. Who wants to spend all their time indoors?
2) There is some incredible architecture downtown, but the rest of the city is pretty ugly... as I said in #1, too many walls and malls. So much glass and concrete, but no character.
3) Not enough fun spaces-- very few good restaurants or cafes, and if they exist... look at #1... they're probably in a mall or a shopping centre somewhere...
4) Joburg is not a walkable city-- even less so than in LA, which gets that reputation. Put me down on Wilshire, in Santa Monica, or Silverlake, and I'd find cool shops, neighbourhoods, and cafes. Put me down in Johannesburg, and I'd get lost, frustrated... and probably mugged.
So, unfortunately, I still just really cannot see the appeal. But, like I said-- there are loads of other people who do love it. But I feel that I can finally say with confidence that I'm not interested in living in Johannesburg. However, for an alternative take on loving Jozi, check out the
Love Jozi
clothing line (pictured above, too). As many arguments as I've made against the city, I think their hip t-shirts will make a much more convincing case in favor of it...