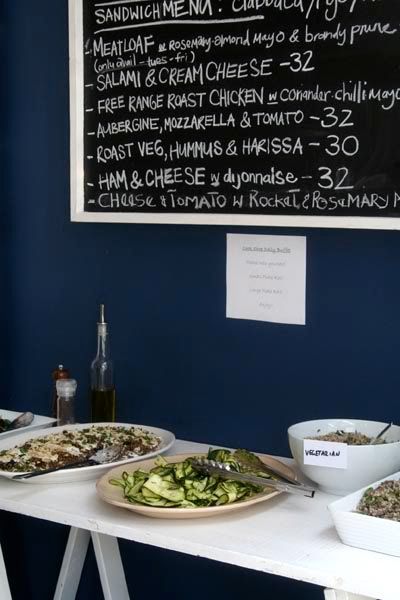 Regrettably late in our year in Cape Town, a fantastic cafe opened up just doors down from our apartment. Though perhaps it was a good thing; with Cookshop just down the street, we may rarely have ventured elsewhere.
Cookshop is an intimate cafe space, with a simple counter inside and breezy seating on the covered patio. The espressos and lattes are made with Organic coffee and the fairy cakes and muffins are tempting, but the main reason to come is for lunch. There is a daily buffet of creative salads, with option including mango and pineapple in a chilli dressing, or lentils topped with almonds and fresh herbs. Otherwise, go for one of the sandwiches on the board, like roast vegetables and hummus in a ciabatta, or free-range chicken on rye. The proprietress had formerly run a stand at the Neighbourgood's Market selling her own line of handmade mayonnaise, dressings and sauces, which have thankfully been incorporated into the sandwiches at Cookshop. Meaning that not only are the sandwiches assembled with care, but that the individual ingredients themselves were crafted with care, to great affect. I've never been a huge fan of mayonnaise, but I would gladly order another roasted aubergine sandwich just for the unbelievable rosemary mayonnaise that dresses it.
Located in Gardens, on 117 Hatfield Road, Woodstock, Cape Town. +27 21 461 7868. Open Monday to Friday from 7 till 4.