This year marks the third Thanksgiving that I have spent out of the Unites States. Last year I was in South Africa, and I barely noted the date as it passed by. The year previous, I was in Syria, halfway through a trip around the Middle East, and had a very memorable Thanksgiving in a desert oasis. I spent the evening having coffee with a small group of Bedouins, an all-white camel named Zenobia, and a mysterious German woman whose real name I never learned.
The day before, I had taken a minibus tour provided by my Hamas hotel out to see the Roman ruins of Afamia, and the crusader castle the Crac des Chevaliers. In the minibus with me there were several other guests from my hotel: two Danish men who were traveling together, an older Belgian man who was traveling alone, and a young German woman who introduced herself as Carmen.
"What do you do in Germany?" the Belgian man asked Carmen.
"I design blindfolds," she answered simply.
The ruins of Afamia were simple, but beautiful- as the early morning light filtered through the crowd cover, the columns stood strong in silhouette. We visited several small castles on the way to Crac des Chevaliers. Some looked tiny, their staunch bodies tightly fortified. Others had been used in the building of new towns, the old castle walls now providing sturdy foundations for modern housing.
Crac des Chevaliers itself was astounding, a massive complex of outer walls, inner sanctums, and a mix of Gothic and Romanesque details. Amazingly, we were the only people there; a small group of tourists in a vast and abandoned tourist site.
On the minibus ride back to Hamas, we discussed our onward travel plans. Carmen, the Danes and I were all planning on heading to Palmyra. The Belgian had already been.
"Palmyra is overrated," he stated dismissively.
"Oh, you would probably say that the pyramids are overrated," Carmen sighed.
"Yes- the pyramids are overrated," he responded.
Carmen leaned forward to my seat, and asked me how I was getting to Palmyra. "Perhaps we should travel together," she suggested.
Back at the hotel, we disbanded, Carmen and I setting up loose plans to meet in the morning. After dinner I returned to my hotel room; I switched on the tv, and found a channel showing English language programming. I settled in for an incongruous evening, watching Kindergarten Cop and revisiting the sights of the day in my head.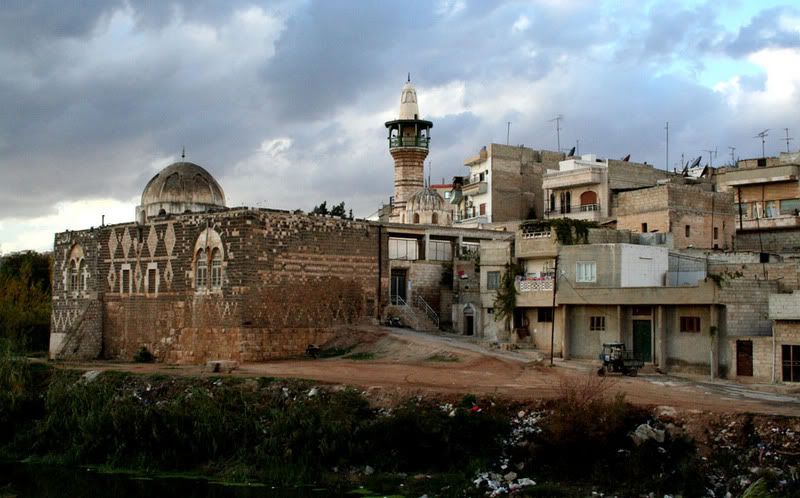 I woke up on Thanksgiving morning to find that Carmen had already departed, leaving me a note at reception. "I woke up early," it read, "but saw that the lights in your room were off, so I have gone ahead. Carmen."
I caught a taxi to the bus station, and caught a minibus to the transport hub of Homs. There, I caught a cab to from one bus station to another, and located the bus heading toward Palmyra. The inside of the bus was heavily decorated, with elaborate drapes, plastic fruit, and small painted cherubs. Two young boys sat at the drivers side; while we waited for bus to fill up, they asked me where I was from, and imitated the sound of bomber jets upon hearing my response.
Leaving Homs, the landscape abruptly transitioned from scrubby forest into harsh desert, the pines and craggy rocks thinning out as the horizon became a razor-edge of burning red sand.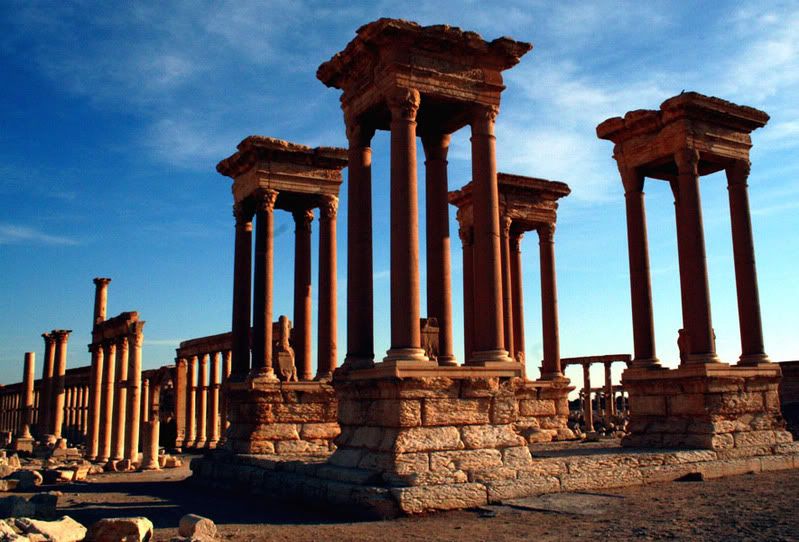 Upon arriving in Palmyra, I located a cheap hotel at the edge of the ruins. After a short rest on one of the twin beds, I headed out to look around. As I walked through the lobby, the clerk stopped me, and handed me a slip of paper. Confused, I unfolded it.
"Ah, so we are staying at the same hotel! If you wish to have coffee in a Bedouin tent, meet me at 9 o' clock in front of the Hotel Zenobia. Carmen."
Palmyra, as it is called in English, is so named because it was founded at an oasis of Date Palms- also giving it its Arabic name, Tadmor, meaning place of dates. It was once the center of a vast trading network that stretched from China to Rome, and a cosmopolitan meeting place for disparate cultures.
Traveling in Syria gives one the sense of physically seeing the past, one layer piled upon another layer. Atop a distant hill sat a medieval castle, which looked down over the desert ruins below. The fragments of ancient Palmyra itself looked an odd cross of Egyptian and Roman- Western forms redone in a pale sandstone.
In the distance I saw two men talking; one was on foot, and the other sat astride a pure white camel. He approached me, and waved an arm to signal me hello. He introduced himself: he was Mahmoud, a Bedouin. He gave me his card, with his photo, cellphone, and fax. He offered his tours, and a homestay at his camp. I took the card, and told him that I would consider it for tomorrow, that I wasn't sure if I would stay in Palmyra for a second day.
I felt obliged to stay among the ruins until sunset, so I found an isolated spot and fixed my gaze on a distant pair of tombs. Nestled at the base of a hill, the two towers both had an unusual sloping form that made them look even more unreal than their setting already did.
Heading back into town, I looked around the main tourist drag for dinner, but found only empty dives decorated in Bedouin kitsch. Scanning them, I wondered which Bedouin tent Carmen wanted us to have coffee in. Each tourist diner had one, hoping to lure in visitors with their exotic florescent charm. Finding little that appealed to me, I bought a bag of dates, and headed back to my hotel room.
A few minutes before 9, I left my room and walked out to the Hotel Zenobia. It was so dark that all I could see was the faint silhouette of the ruins against the distant mountains.
I was wondering whether I should look inside the hotel when I saw her approaching, her bulbous down jacket looking so uneven on her thin legs.
Upon arriving, she explained to me that she had met a Bedouin man who had invited her for coffee, and she hadn't wanted to go alone.
"How did you know that I was staying in the same hotel as you?" I asked her as we waited.
She smiled coyly. "Haven't you ever heard of a woman's intuition?" She paused, and scanned the starry sky. "I saw your passport behind the front desk."
A motorbike puttered up the road, and into the drive. A handsome man with dark eyes stepped off the back, and the driver u-turned and headed back the way he came.
As he came nearer, I realized that it was Mahmoud- the man who had given me his card that afternoon. "Ah, Susan," the man said. She shot a look at me. "I'm glad you came."
We followed him through the darkened ruins back to his camp. Fragments of temples and shards of broken columns appeared out of the blackness, taking form as we grew near, and disappearing again as we walked further.
At his camp, we found three other men waiting for around a fire. Before taking us to join them, Mahmoud introduced us to his camels. He proudly introduced us to Zenobia, the white camel that I had seen him on earlier.
"She is a very special camel," Mahmoud told us. "My favorite. Very special to me."
"Because she's so beautiful?" I asked.
"Because she is so smart," he said, patting her on the neck.
The other men had prepared coffee for our arrival, and poured us each a cup as they warmly invited us to sit. The night air was already crisp, and the hot cup warmed my hands quickly. The coffee was thick, coarse and delicious, richly spiced with cardamom. From a distance, Zenobia and the other camels watched over our conversation.
"What do you do in Germany, Susan?" Mahmoud asked Carmen.
"I test drive speed boats," she answered simply.
Mahmoud impressed us with his language skills, offering phrases in German, Italian, Spanish, and French. He explained that while he had settled at Palmyra in order to make money off of the tourist trade, his parents were true Bedouins, who lived as nomads in the desert.
The evening grew late as we talked, and Carmen eventually indicated that we should head back to the hotel. We talked little as crossed the ruins again. She asked me my age, and raised her eyebrows exaggeratedly when I told her. "I could never have done what you're doing when I was your age," she said. She said that she was planning on staying in Palmyra another day. She wanted to see some of the further ruins, and perhaps to spend a night out in Mahmoud's camp. "Perhaps I'll see you around tomorrow," she said as we parted in the hotel hallway.
The next morning, I woke early and caught a bus heading toward Lebanon, leaving no notes behind.