In the year and a half we've been dating, Bordeaux and I have lived on three continents, and traveled in almost ten countries together. This is a pattern we set very early in our relationship. In April of 2006, after knowing each other for less than a month, Bordeaux and I took our first international vacation together. Our school's autumn holidays overlapped, so we decided to take a road trip. We left Cape Town, crossed the winelands into the Karoo, spent an unsettling night in the Free State, and finally entered the ZA-locked country of Lesotho. Known in travel guides alternately as the Mountain Kingdom or the Switzerland of Africa, Lesotho is a ruggedly inspiring country of staggering summits and vast desolate spaces.
After spending a night at Thabo-Bosiu, near the capital, we departed for the lodge at Semonkong village. We drove for hours along a winding, pot-holed road, passing neither towns nor other drivers as we made our way higher and higher among the barren peaks. We continually questioned whether or not we were lost, and we wondered what would happen to us were the car to break down. We finally reached a high mountain pass (elevation: 2,600 meters), where a tiny hand-painted sign announced that we were approaching the tiny town of Semonkong. Despite being so isolated, Semonkong is actually a tourist destination, offering pony trekking and a tall-but-unspectacular waterfall. The town itself is pleasant: quiet, with an abandoned airport, simple houses, and miles of surrounding farmland. The lodge at Semonkong is set at a nicely wooded curve in the river, tucked between craggy red cliffs and towering trees. The highlight of our visit for me was the early peek at the African autumn. Though summer was still lingering in Cape Town, the season had already changed in Lesotho. The trees around the river were clad in gold, and a soggy carpet of fallen leaves was already settling on the ground. Bright, sunny mornings turned gray with afternoon rains, eventually darkening into damp, chilling nights.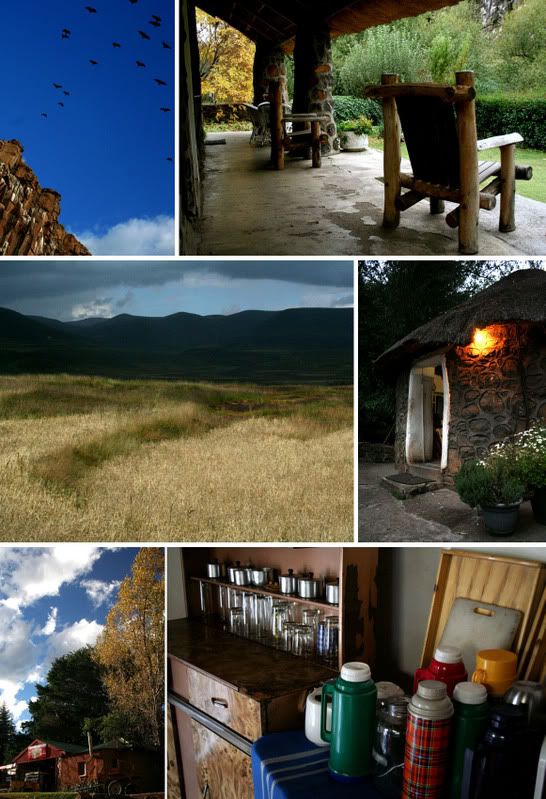 Despite being beautiful, the lifestyle at Semonkong was a little rough, and the comforts few. We spent our days hiking, alternately admiring the rolling hills as we slogged through muddy fields, and seeking shelter from the rain. We'd return to the lodge for lazy afternoons; we had packed a coffee plunger, so we enjoyed long-life milk lattes as we read in the camp kitchen. After dark, we ate in the lodge's bar, sipping near-tasteless Maluti beer alongside the simple vegetarian dinners, which were made with Soya mince. The nights were freezing, and we struggled to stay warm in our tent. Considering how little we knew each other, the trip could have been a disaster. Thankfully, it only made us want more.