One of the things I loved most about living in Cape Town was how varied the landscape was. The city is stretched over an angular peninsular, broken apart and divided by hills and mountains, and pressed tightly against the sea. Within a relatively small area, the metropolitan landscape ranges from urban center to oceanside resort, from lush suburbs to tumbledown townships. The differences in terrain are only made more pronounced as the seasons change. In autumn, my neighborhood of Sea Point became gray and fairly dull, with listless colors dripping off moping shopfronts. Around Table Mountain at my university, it was rather more pleasant, with a misty blanket of fog that gathered above the treetops. Further around Devil's Peak however, autumn was displayed with incredible beauty and atmosphere; the suburban forest of orange and red leaves parting in spots to reveal the odd gable of a colonial manse, puffs of smoke curling from its chimney.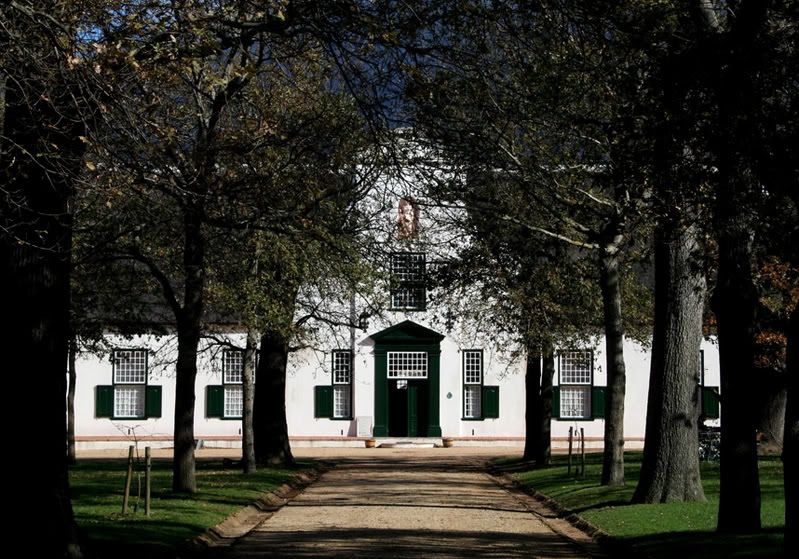 On a particularly beautiful day last autumn, Bordeaux and I followed the M-1 around the curve of Devil's Peak to Constantia. We drove in past thick white plaster gates, to Groot Constantia, an historic 17th Century wineyard and plantation home.
We wandered around the grounds, between empty wine cellars and small museum displays. We passed ducks playing in a fountain, workers tilling the earth, and locals at lunch among the winery's cafes. Toward the end of our visit, we strolled down between ruddy fields to the graveyard. The wrought-iron gate was hanging open, inviting us in. Before us, there were bone white tombstones standing askew on the leafy ground. Beyond the graveyard walls, dry tree branches bleed red leaves into the sky, and white fog grasped the fading afternoon light. It felt miles and centuries away from my Sea Point apartment.