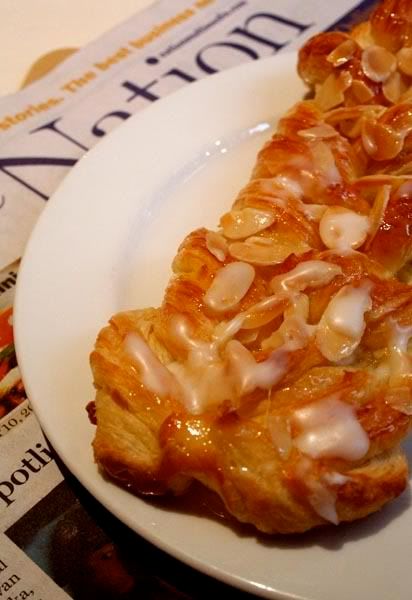 On a gray late-morning last week, Bordeaux, a friend and I headed down Sukhumvit Soi 20 to visit a favored coffeeshop. Unfortunately, as we approached it we noticed that the lights were off; at the door, we discovered that they don't open on weekdays until 3:00. As we stared through the locked doors into the darkened interior, it began to pour rain. We headed back up Soi 20 toward Sukhumvit, in search of a refuge where we might find some coffee. We finally came across Bei Otto, a strange little building designed to recreate the look of a German hamlet. Curious, we ducked inside.
Inside, we found a well stocked deli, with an array of cold meats, shelves of imported candies, and a lavish pastry counter. The waitstaff seemed oddly distracted, but we eventually managed to get a menu from one of them. The only breakfast offering was a 'German Breakfast', which is apparently a platter of eight or nine different slices of meat. While that wasn't too tempting, the pastries were. We ordered some coffee and each selected something from the counter. Given the wide range of baked goods, it was a tough choice; Bordeaux eventually selected a poppy roll, his friend chose a savory crossaint, and I picked an almond danish. We settled into a booth near a window, and watched as rain flooded the soi outside.
The pastry was actually quite amazing- perhaps even comparable to
Cafe 1912
. The pastry in my almond danish was nicely flaky yet soft inside, and topped with sweet gooey icing and an ample amount of crunchy almond slices. The atmosphere, however, was not comparable to Cafe 1912. While the deli itself is inviting enough, the seating area is a fairly bland side-room with three booths and several uncomfortable looking high tables. There were some odd suggestions of decoration, and frighteningly, some 'bread art' screwed into the wall (how long ago did they bake that bread hat?). So while I definitely recommend that you come in and browse the deli at Bei Otto, try some of their delicious pastry, and perhaps order a sandwich- I suggest you place your order to-go.