After
searching
out a symbol for Halloween, I eventually chose the above McPumpkins. I had considered going with something macabre, or something eerie, or something vaguely tropical; in the end, I went with something simple and nostalgic. As a child, the approach of Halloween was always heralded by a number of commercial events: the setting up of the masks and candy aisle at Walgreens, the appearance of Creamland Goblin Nog (actually just Egg Nog with a retro Halloween packaging) in the dairy section of Furr's Supermarket, and the arrival of the McPumpkin pails at McDonalds. So this simple watercolor of McBoo, McPunkin and McGoblin is my tribute to my childhood fondness for the 31st.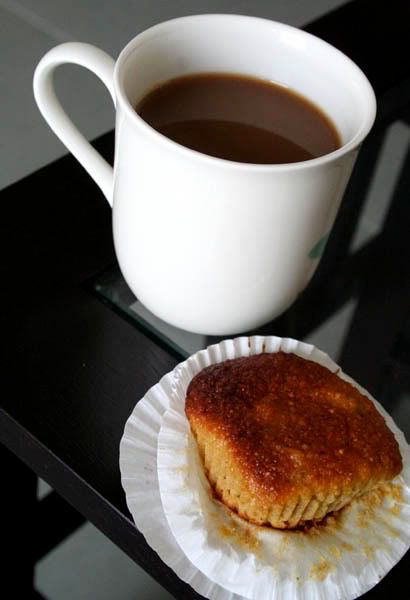 We've also been trying to recreate Halloween in the kitchen. We've cooked pumpkin in likely every dish possible: we've had pumpkin stir-fry, pumpkin shakes, and
pumpkin soup
; and, with the aid of our new oven, pumpkin cookies, pumpkin muffins (above), and delicious
pumpkin bread
. Despite our efforts at recreating the feeling of the holiday, I couldn't combat the sunny skies and tropical heat of Bangkok. This was not the season. In the end, I had to simply accept that I wasn't really going to get an Autumn Halloween here.
But Bangkok actually held a few surprises for me. After shopping on Thong Lor, Bordeaux and I decided to find coffee. We stopped in at
After You Dessert Cafe
, located in J-Avenue on Soi 15. There, among the unusual selection of desserts, we spotted this Halloween cobweb cupcake. I had it with a cup of warm spiced apple cider, which complemented it perfectly.
Over the past week, the nights have been slowly growing, swallowing the afternoon light earlier and earlier every day. Then this morning, we woke to an overcast sky, with a cool wind curving through our balcony kitchen. A soft drizzle was falling by the time I arrived at school. Bangkok had given me autumn just in time for Halloween.
So tonight, Bordeaux and I will settle in under early nightfall, enjoy some pumpkin pizza, have a pumpkin chocolate chip cookie or two, and watch a pirated Alfred Hithcock DVD that we picked up at
Pattpong
. I hope your Halloween is filled with as many unexpected turns as mine.