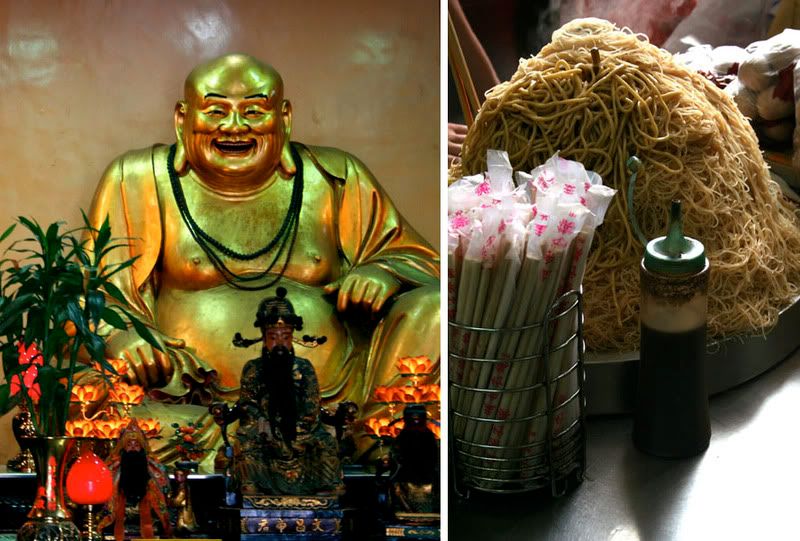 At the center of Hsinchu's historic old town sits Chenghuang Temple, the City God Temple. As the protector of the local citizens, the City God also has the responsibility of monitoring their moral behavior, and of reporting on them on their day of judgment. Not everyone who visits comes to make an offering or say a prayer, however. A maze of market-stands crowd around the temple's sagging frame, offering cheap and delicious local specialties, giving the sanctuary its other name: 'The Eating Temple.'
We visited the Eating Temple near the start of
Ghost Month
, a particularly auspicious time to pay homage to the local deities. On the way in, we stopped at a stand selling fresh spring rolls. they were much larger than most I've seen- almost the size of a buritto- and the thin wrapping was filled with sprouts, ground pork, and a delicious peanut sauce. Moving into the temple, our eyes were clouded with smoke from a furnace burning stacks of paper money. Winding out of the temple's courtyard, we stepped among the rows of market stalls, where the lingering scent of incense entwined with the fragrance of sizzling oil and chopped garlic. We picked a spot for lunch, and ordered two dishes that are both specialties of Hsinchu.
The first dish was a simple pork-ball soup. The clear broth was only lightly flavored with celery, the focus of the soup being the locally famous pork-balls. Smoothly textured chunks of white pork, they are surprisingly tasty. Our other dish,
bawang
, was a little more unusual. A fat blob of white noodle with a bleeding red stamp on top, they can be visually a little off-putting. Inside the noodle casing, however, is a delicious blend of pork, garlic, and cinnamon. Though available elsewhere on the island, the Hsinchu variety is distinct for its smaller, more manageable size, and its distinctive purple hue.
Our prayers said and our meal finished, we slipped out past the throngs of diners and devotees and back into the steamy heat of the afternoon.
PS- If you can figure out what the patrons of the stand in the last photo are eating, you'll be able to guess what the next 'Taiwan Treat' will be.