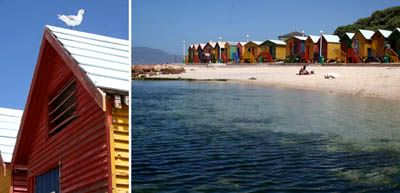 It seems like every time I get out of the city I head straight for False Bay-- but given the bay's blue-green waters, pale sandy beaches, and stunning views, I think that's understandable. Our last picnic on the other side of Table Mountain took place at St. James, a tiny spot between Muizenburg and
Kalk Bay
that's little more than a train stop and a tiny crescent shaped beach. But that intimacy works in its favor-- since it is without the throngs of surfers that crowd Muizenburg, or the tourist buses that line Simon Town's main road, St. James is a quiet little spot of sand, perfect for relaxing with a book or a blank mind. There's even some tidal pools-- both the big artificial kind for splashing in, and the little natural kind for observing some aquatic friends.
And since it isn't that far from Kalk Bay, you can still hop over there for dessert at
Ice Cafe
, one of the best reasons to visit False Bay. This time, we opted for Turkish delight flavour. Yum.