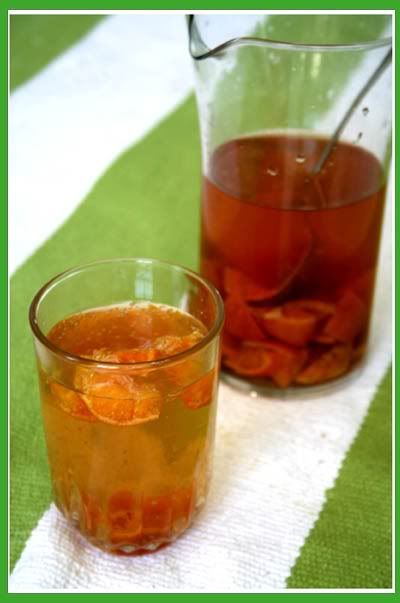 Cape Town's bright, sunny summer days set the perfect mood for a little outdoor entertaining. Unfortunately, Cape Town's wind can kind of ruin that mood-- which is why we had to move our picnic indoors this afternoon. But might as well make the best of the situation, and serve a little summer wine punch for those willing to make the trek inside.
Entertaining with Wines of the Cape
, a South African publication from 1959, recommends a 'wine cup' for summer gatherings. 'For cool thirst quenchers and refreshing summer drinks no enterprising hostess could do better than a "wine cup" - usually a well-blended bowl of wine, soda water and fruit with a dash of special flavouring for extra zest and mystery." I'm ignoring that bit about the hostess.
For our picnic on the carpet, we adapted Entertaining's recipe for a '
Popular Party Cup
'. It's a refreshing combination of white wine with sherry, with a nice touch of bitterness added by candied orange peel. We used a cheap Chenin Blanc which had a pleasantly grassy flavour with hints of summer fruit. It made for a perfect sunny-day cocktail, not too sweet, and just boozy enough to add a nice soft glow to the afternoon.
The Popular Cup
1 bottle inexpensive white wine (I used a Welmoed Chenin Blanc)
1/2 cup sherry
small slices of candied tangerine slices, can substitute with orange slices or lemon rind
soda water
Mix the bottle of white wine and the sherry in a pitcher, and add the fruit. Leave to chill in the fridge for at least an hour. To serve, put two ice cubes in each glass, scoop in some of the fruit, and pour 1/3 punch to 2/3 soda water.