Opinions in eating.
A few weeks ago, a Cape Town food reviewer for the Mail & Guardian wrote about where to get a good breakfast in Cape Town. While he actually picked some fantastic spots, he kind of lost me when he stated that South Africa had 'luckily' inherited the tradition of the Full English Breakfast. I don't know if I'd call that luck, really. While an English breakfast can be a fun late-morning binge every now and then, a big plateful of greasy meats, over cooked vegetables, and bland eggs is actually a rather unappetizing thing to be greeted with as you wake up. Perhaps worse, I find that the flavours of bacon and sautéed mushrooms mix terribly with coffee.
This came to mind recently while Bordeaux and I were on our little honeymoon in the Karoo. We were served a Full English Breakfast at our first guesthouse, and while they'd done an attractive job with the presentation, we both groaned with the thought of being served the exact same stodgy breakfast for every morning of the trip.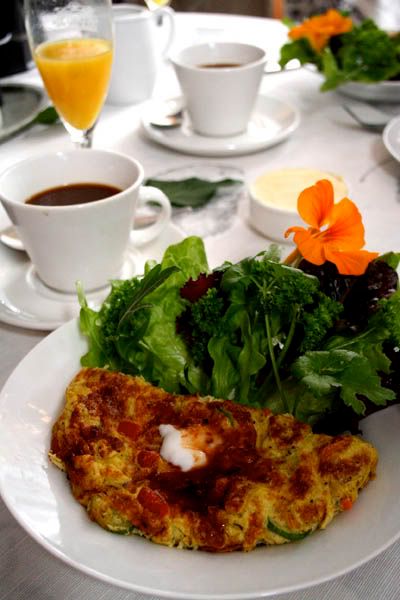 Thankfully, our other guesthouses came through for us. The hotel in Barrydale served a delicious vegetable frittata garnished with lots of crisp herbs and edible flowers—not only did it look beautiful, but it was really nice to start the day with something so fresh. Our guesthouse in Greyton gave us options: the Full English was there, but we opted instead for yogurt with muesli and fresh fruit. It's simple, but it's about my favourite way to start the day, really (and it goes perfectly with a cup of coffee).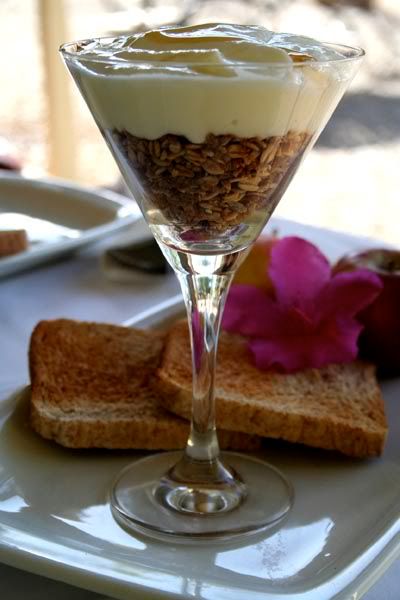 There are so many great options for breakfast—pancakes, omelets, French toast, home-made granola, fruit salad, poached eggs, Dutch babies, salmon and crème freche with a little dill-- I don't know why Full English is so popular. And it's not that I'm opposed to red meat in the morning, either. A scramble of some eggs and boerewors (South African sausage) would at least be a fun local take on the Full English (A Full Afrikaner Breakfast?). Basically, I just think that a Full English is as uncreative as you get with breakfast—especially for a guesthouse. Part of traveling is experiencing different places –why not serve a breakfast that makes use of seasonal produce from the area, or unique local ingredients? Part of the fun of coming to New Mexico is waking up to blue corn pancakes—I bet there could be some fantastic breakfasts made to reflect the flavours of South Africa.
What's your favourite breakfast? Have you ever had any really fantastic breakfasts while you were traveling?