The shoreline of Cape Town's False Bay is draped with a string of small towns. While each one has its own unique charms and attractions,
Kalk Bay
in particular is worth a visit.
Just on the other side of Table Mountain, sheltered between rocky crags and a skirt of sapphire water, lies one of my favourite places in the world: Kalk Bay. It's only a thirty-minute trip from Cape Town city centre, yet it feels worlds away. For though its history and character are distinctly South African, this balmy settlement glimmers with enough resemblances to the Mediterranean or coastal California that a visit always makes me feel as if I were on holiday.
Kalk Bay is known for its fishermen, and you might spot the chefs of some of Cape Town's best restaurants bargaining with them as they bring in their catch. The town is also something of an enclave for artists; within its short stretch of waterfront blocks you'll find welcoming cafes, unusual galleries, and shops filled to the beams with antiques. Some of the most rewarding shops lie off of Main Road, hidden in discreet alleys. Weaving up and down these narrow streets, we browsed among the work of local throwers at the Potter's Shop, and reminisced among vintage biscuit tins at the Cook's Room.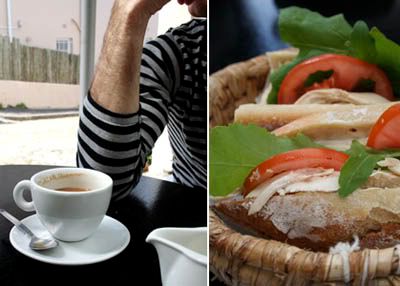 I usually head straight for Olympia Café when I'm in Kalk Bay. Its interior is always suffused with an inviting golden light, thanks its face of high windows that look onto the sea, making it a warm and comfortable place to relax over a latte and an almond croissant. But I'd heard good things about Boulangerie, a tiny French bakery located up one of Kalk Bay's steep side streets. We finally found it tucked among some bougainvillea behind the Artvark gallery (ok, the chalkboard at street level helped), and settled into a table on the patio. Their lunch menu features rustic sandwiches with fillings like bacon and brie, or oven roasted chicken, served in crunchy baguettes or between slices of wholesome farm breads. The meals are light and uncomplicated, perfect for the casual, breezy setting.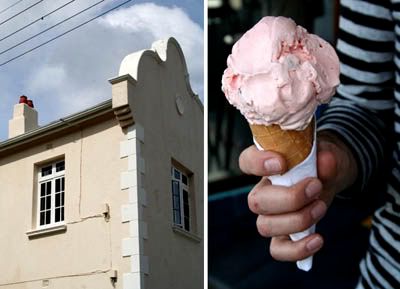 Boulangerie's desserts almost gave us reason to linger—the dark chocolate brownies with cherries were particularly convincing—but we'd already made up our minds to try out The Ice Cafe. I'd often seen queues in front of this ice cream parlour, and was curious to if it was deserving of the crowds. We squeezed in among the throngs, and placed our orders: we each got a single scoop of rum and raisin. It arrived in an unexpected shade of pink, a massive ball of rose coloured ice cream that made me feel just a little silly as I took it outside. Thankfully, the rich, slightly boozy flavour of the alcohol-soaked-raisins helped keep me from feeling too childish. Though if a trip half-an-hour out of town can evoke the feeling of a childhood holiday to the beach, it might not be worth fighting it.